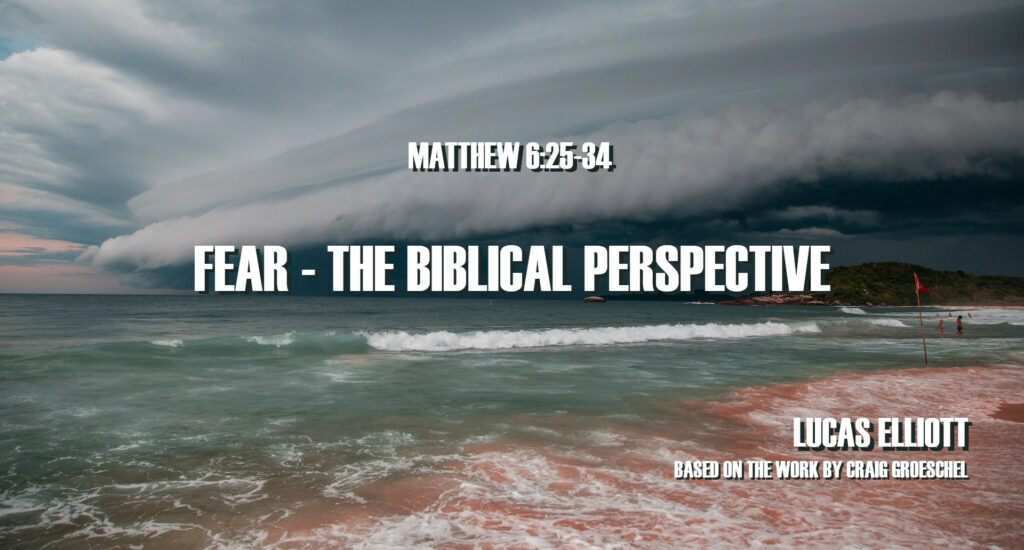 Originality Note: This topic is heavily inspired from pastor CRAIG GROESCHEL's Soul Detox Theory Devotional through RightNow Media. This topic was written to fit within a series for Launch Ministry at Hope Chapel in Sterling. Credit to Pastor Groeschel where appropriate.
Matthew 6:25-34:
"Therefore I tell you, do not worry about your life, what you will eat or drink; or about your body, what you will wear. Is not life more than food, and the body more than clothes? Look at the birds of the air; they do not sow or reap or store away in barns, and yet your heavenly Father feeds them. Are you not much more valuable than they? Can any one of you by worrying add a single hour to your life?

"And why do you worry about clothes? See how the flowers of the field grow. They do not labor or spin. Yet I tell you that not even Solomon in all his splendor was dressed like one of these. If that is how God clothes the grass of the field, which is here today and tomorrow is thrown into the fire, will he not much more clothe you you of little faith? So do not worry, saying,'What shall we eat?' or 'What shall we drink?' or 'What shall we wear?' For the pagans run after all these things, and your heavenly Father knows that you need them. But seek first his kingdom and his righteousness, and all these things will be given to you as well. Therefore do not worry about tomorrow, for tomorrow will worry about itself. Each day has enough trouble of its own.

Matthew 6:25-34
Fear is embedded into every one of our lives. Every one of us, even those of us who might not think of fear as being a big issue in our hearts, suffer the chokehold of fear. As children, the things we fear are very definable. We fear things because they are inherently, well, frightening. We fear monsters in the closet, we fear the hot burners on the stove, we fear getting lost in the woods or we fear that neighbor down the street that doesn't quite walk right and always looks at you funny.
As adults, our greatest fears are much less definable and objective. We fear loss. We are afraid of losing someone we love, of losing money, or of losing control. We're afraid we might lose our health or skills. We fear failure. We are afraid we don't have what it takes. We're fearful we're making the wrong choice. We're afraid we're going to mess it all up. We fear the unknown. What if I lose my job? What if the economy continues to get worse? What if I get sick? and we also fear rejection. What if they say no? What if they leave me? What if I don't measure up to the approval of my boss, my parent, or my spouse and they reject me?
Maybe you don't dwell on these fears much. When a child is afraid of something, it is at the forefront of their mind. They're vocal about their fear, not only to those around them but to themselves. The fear feels obvious in the moment and the response seems equally obvious. As adults, the ways our fears pop up in our life can be hard to identify.
Consider this analogy. A child is afraid of there being some monster in the closet. What do they do? When I was younger I had such a fear. I was afraid that if the sliding doors in my bedroom were open something could get out. I was afraid that if the light was on in the closet but off in my room, whatever creature was in there would want to get away from the light and come get me. So, I always made sure that the closet door was shut and that its light was off. I'd keep an eye on the closet when in bed and preferred to be facing that evil lair than the wall opposite it. In those moments I was very much aware that I was afraid, and what I was afraid of.
But what's a fear I have today? One fear I sometimes struggle with is of losing my car. It's the thing I've invested the most into in my life, and it is a requirement for me to make money and see the people I care about. But how does that fear materialize? It's not an obvious and clearly defined fear with easy fixes to battle it. No, it shows up as anxiety. I'm anxious when I hear a sound I didn't hear it make before. I'm anxious when it shifts hard or the car struggles to start. It shows up as a lack of trust. I'm hesitant to let someone drive my car. In these moments I am not acutely aware of my fear until I really consider it.
That's how fear affects us as adults. It's not a paralyzing fear that takes the forefront of our minds. Well, sometimes it can be, but in my opinion, the fear that is most damaging to our relationships with God is the fear that goes unnoticed. But how is this fear damaging? Consider again me and my car. If a neighbor needed to borrow my car to go pick up a replacement part for their own, would I let them take it? Would my anxiety make me hesitant to help someone in need?
We all struggle with fear of rejection. What if God calls us into a relationship but we let that fear of rejection hold us back and don't take a step forward? The same can be applied to a career change or a tough conversation with a friend or family member. Fear, fear we sometimes can't recognize until we take a step back and consider our motivations, can pull us away from our callings through Christ.
When these fears materialize as anxiety, they can also be distracting and harmful emotionally. When we are anxiously worrying about a relationship and spend hours at night letting our minds spiral, we're distracting ourselves from God. When we lead ourselves to sorrow and depression from our fears and doubts, how can we be living in God's love? When we let ourselves be paralyzed by uncertainty and fear, what can we accomplish for his kingdom? And what does this worrying accomplish? "Can any one of you by worrying add a single hour to your life?" (Matthew 6:27). Nothing.
Living in fear is actually sinful. God commands us to not live in fear.
"Do not be anxious about anything, but in everything by prayer and supplication with thanksgiving let your requests be made known to God.And the peace of God, which surpasses all understanding, will guard your hearts and your minds in Christ Jesus."

Philippians 4:6-7
"Trust in the Lord with all your heart and lean not on your own understanding; in all your ways submit to him, and he will make your paths straight."

Proverbs 3:5-6
"Fear not, for I am with you; be not dismayed, for I am your God; I will strengthen you, I will help you, I will uphold you with my righteous right hand."

Isaiah 41:10
Bethany Community Church has compiled a list of God's commandments to "Fear Not," which you can read here. As a preface to this list, it says the following:
Not all fear is sinful, but clearly, some fear is rebellion against these commands to "fear not." If fear and worry are a part of your life, take some time and read and meditate on these passages. Embrace the command to "Fear Not" as something God expects you to obey.

Bethany Community Church
Some fear is necessary. There is a rare genetic disorder called Urbach-Wiethe disease that prevents those who suffer it from feeling any and all fear. It's a dangerous condition because fear is something God designed us to feel and use as a tool. It keeps us alive. We should be afraid of long drops or deadly diseases or of burning fires. However, that fear should never separate us from trusting God's plan. Why? Because he is more powerful than anything we can be afraid of. If God is calling you to do something that you are afraid of, then there is no longer anything to fear. If there's something you're afraid of that becomes paralyzing or limits your life, that too is wrong because God calls us to be courageous and to live without anxiety.
Our fears can hurt us. Maybe it is a toxic and paralyzing fear that you're struggling with. Maybe it's a fear you haven't even fully realized is affecting your life. What you fear reveals the things that you value that you have not given to God. It shows where you don't trust God's hand. That is what makes some fear sinful. We will never truly be able to remove our fear as we are imperfect, but we are to be courageous and to trust that God is greater than all of it.
So the next time you feel anxiety creeping up on you, ask yourself where it comes from. Ask yourself if there is anything coming that God does not have ultimate control over. Ask yourself if there is anything that God cannot redeem and use for the good of his plan. Ask yourself if there is anything that God is not more powerful than. The answer should always be a resounding no. Nothing on earth can overpower God, and nothing can pull you away from his love.
Don't be paralyzed by fear and anxiety. Instead, turn to God to remove the chokehold of fear on your heart. Analyze the areas that you haven't trusted to God. What do you fear the most? How can you give that to God and live in his peace? "Look at the birds of the air; they do not sow or reap or store away in barns, and yet your heavenly Father feeds them. Are you not much more valuable than they?"