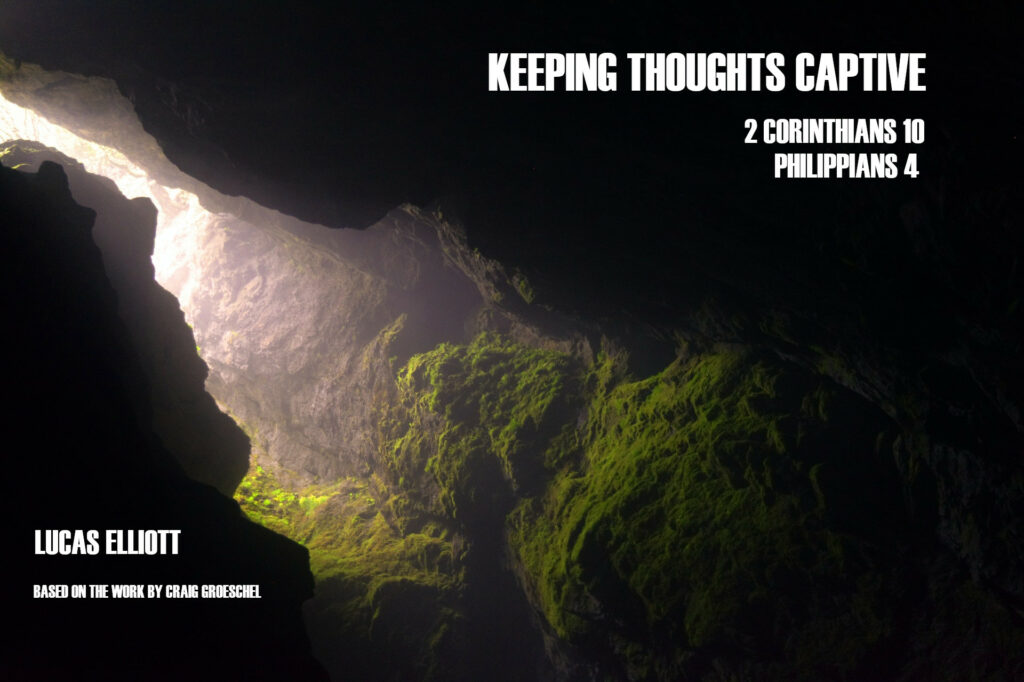 Originality Note: This topic is heavily inspired from pastor CRAIG GROESCHEL's Soul Detox Theory through RightNow Media. It was to fit within a series for Launch Ministry at Hope Chapel in Sterling. Credit to Pastor Groeschel where appropriate!
Over the past few weeks, we talked about how words can hurt us, how fear can restrict us, and how relationships can hurt us. We discussed some ways to manage and approach those issues biblically, but let's turn the focus from the outside to where they go next, in our minds.
Let's read 2 Corinthians 10:1-5:
By the humility and gentleness of Christ, I appeal to you—I, Paul, who am "timid" when face to face with you, but "bold" toward you when away! I beg you that when I come I may not have to be as bold as I expect to be toward some people who think that we live by the standards of this world. For though we live in the world, we do not wage war as the world does. The weapons we fight with are not the weapons of the world. On the contrary, they have divine power to demolish strongholds. We demolish arguments and every pretension that sets itself up against the knowledge of God, and we take captive every thought to make it obedient to Christ.
Toxic words, fear, and toxic relationships affect how we think. What we think really does matter. It's the thought that counts. It can be so easy when we're left with just our thoughts to let our minds spiral.
We get anxious over things. We let that fear creep up and grab our train of thought and we twist words and experiences to reinforce negative thoughts.
– I'm not good enough
– I'll never do this
– I'm always going to be alone
– My life is going nowhere
– I've made a big mistake
– I'm worthless
– None of my friends really care about me
– God doesn't care about me
2 Cor 10:5 says we are to "take captive every thought to make it obedient to Christ." Let's unpack that a bit.
Often our thoughts fall into one of those four categories.
– Negative thoughts
– Fearful Thoughts
– Discontented Thoughts
– Critical Judgmental Thoughts
Now here's a really key point I want you to take away with you: When you analyze your life, your situations, your relationships, etc, you will find what you look for.
You will find what you look for.
God commands us to take captive every thought, to stop them before they get too negative or damaging. Why is that? Is he worried that you'll figure something out or find some secret truth? Is he asking us to never critically consider what we learn in church? No…. that would be a cult. In fact, God encourages us to put everything to the test and compare it to what we know and what God teaches us.
Quick side note: Note that "putting everything to the test" is different from testing God. Testing God or testing our faith is when we try and "force" God to prove himself or when we choose to put ourselves in a situation where we are surrounded by temptation. That is something God commands us not to do in Deuteronomy 6:16. We see Jesus quotes this verse when satan tempts him in the wilderness in Luke 4:12.
So if God is not trying to keep us away from some truth or secret, why does he ask us to guard our thoughts, to keep them "captive?" Pastor Groeschel applies the analogy of a hummingbird and a vulture to this topic. Hummingbirds spend their time hunting for what? Sweet nectar from a flower. Guess what they find? Nectar. Vultures on the other hand spend their days flying around searching for what? Dead animals. Now, what do vultures find? Dead animals, right?
Likewise, when analyzing our lives we will find what we are looking for. None of us are perfect. Our minds are imperfect. Our love is imperfect. Our lives are imperfect. There are many many flaws in every one of our lives. Our imperfection is an unavoidable result of sin's existence in the world. If you go searching for shortcomings you will find them because we all fall short. Romans 3:23 reminds us that "all have sinned and fall short of the glory of God."
We then compare those shortcomings to each other, but the only mind you know is your own, so we always seem worse compared to those around us. When God commands us to take every thought captive, he is doing this because he already knows how we fall short. He knows that we're imperfect and he knows that if we go searching for the ways we fall short we'll find them. Just like the vulture, if we search for negativity we'll find it.
Now, we don't want to be in denial of our shortcomings. 1 John 1:8 says that "If we say we have no sin, we deceive ourselves, and the truth is not in us." But we also don't want to dwell on these shortcomings and tear ourselves down.
Honestly, our shortcomings are something that should drive us to praise God. We have a God that still loves us despite knowing every dark corner of our minds. We have a God that can redeem all of our failures, all of our doubts, and all of our weaknesses. We have a God that sees our hearts and cares for us equally. A God that has a plan for us. A God that loves us.
So, if God calls us to take our thoughts captive and make them obedient to him, how do we do that? What do we focus on? What does God command us to think about? If we're the hummingbirds, what nectar should we be seeking?
While this truth can be found elsewhere in the bible as well, Philippians 4:4-8 does a really good job of speaking on this.
Rejoice in the Lord always. I will say it again: Rejoice! Let your gentleness be evident to all. The Lord is near. Do not be anxious about anything, but in every situation, by prayer and petition, with thanksgiving, present your requests to God. And the peace of God, which transcends all understanding, will guard your hearts and your minds in Christ Jesus.
Finally, brothers and sisters, whatever is true, whatever is noble, whatever is right, whatever is pure, whatever is lovely, whatever is admirable—if anything is excellent or praiseworthy—think about such things. Whatever you have learned or received or heard from me, or seen in me—put it into practice. And the God of peace will be with you.
At first this act of thinking like God and dwelling on his truths can be awkward, but over time it becomes more natural. I still remember when my parents were first teaching me how to ride a bike. I pretty quickly learned how to go in a straight line, but turning felt really awkward. I'd wobble and tip over and I was terrified of falling. But over time it became second nature. In the same way, while it can be hard and can feel a bit awkward to redirect your thoughts as God asks, over time it will become second nature.
When you are forced to face doubts, loss, heartbreak, frustration, and confusion. Your first instinct will be to turn inwards and search for your shortcomings, to search for where you failed. Because that's what sin does, right?
Sin and sin nature turns us inwards towards ourselves, towards selfishness, towards our own shortcomings. It turns us away from God and towards ourselves. Just like how a machine can't power itself, neither can we. It's not until we turn upwards toward God and dwell on his truth and focus on his will can we truly find the joy and peace he promises. Just like we read in Philippians 4, "the peace of God, which transcends all understanding, will guard your hearts and your minds in Christ Jesus." Pastor Groeschel sums it up nicely. He says: "Don't ever let your spiritual enemy get an upper edge by thinking toxic thoughts."
Sometimes we can't control what's said to us. Sometimes there are relationships that we can't avoid or cut out completely. Sometimes we fail to hold back our fear. But don't let them rule your mind. Don't let your spiritual enemy get an upper edge. Hold your thoughts captive, and make them obedient to Jesus Christ. Why? so that the Peace of God, which transcends all understanding, will guard your heart and your mind in Christ Jesus.